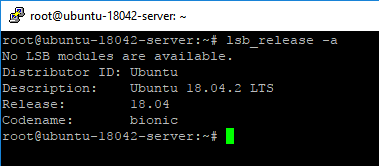 Version
Download

107

File Size

1,088.61 MB

File Count

1

Create Date

July 2, 2019

Last Updated

December 11, 2019
Ubuntu Server 18.04.2
This Ubuntu Server 18.04.2 OVA was created in VMware Workstation using basic common sense. I DO believe in working AS the root user (instead of all the 'sudo' garbage) but I DO NOT believe in allowing direct root access, so you'll have to su.
The username is: administrator
The password for administrator is: P@ssw0rd
SSH is open, but not directly for root
root is available after logging in as administrator by using the command: su -
The password for root is: P@ssw0rd
Here are some simple steps to get started:
Import the OVA to your hypervisor
Determine the IP address
Connect using SSH with the username: administrator and password: P@ssw0rd
Once connected, type: su -
When prompted for the root user password, type: P@ssword
Change the password for administrator by typing: passwd administrator
Change the password for root by typing: passwd: root
Change the server hostname by editing the file: /etc/hostname
Reboot by typing: reboot NOTE: This is now your server!
Continue by adding components such as on The Perfect Server tutorials

on HowtoForge.