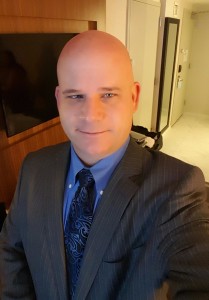 John Borhek is an active consultant and Systems Architect specializing in Virtualization, Hyperconvergence and Infrastructure Design. John has been the Lead Solutions Architect at VMsources Group Inc. since 2010. In 2012, following his work in New York City during Hurricane Sandy, John assumed the role of IT Director for VMsources as well..
While John remains ultimately responsible for the design of all systems deployed by VMsources, his primary day-to-day responsibilities include overseeing a Data Center of 64 HP Blade Servers with almost a petabyte of SAN storage.
John was a pioneer in the design and deployment of Hyperconvergence, long before the term was invented! In 2008, John successfully deployed Hyperconverged storage on VMware, followed shortly by his own implementation of Hyperconverged Networking (based on M0n0wall), necessary to support clients during Disaster Recovery Situations.
More recently, John has been focused on supporting the move to IoT by enterprise and government including Linux-based systems such as The VMware vCenter Server Appliance (VCSA), VMware vSAN, Nutanix (and other) Hyperconverged Storage systems as well as BSD-Based Hyperconverged networking solutions.
In his work with clients like Siemens, AT&T, Apple Computer and financial firms in New York City, John has gained tremendous experience operating in a wide variety of Infrastructure environments ranging from small clusters to million square foot data center facilities. John's responsibilities have taken him all over the world, designing, deploying, documenting systems for organizations ranging from SMB to Fortune 500 plus Federal and Military engagements. John has designed and subsequently supervised the deployment of, literally, hundreds of systems utilizing VMware vSphere, KVM, OpenStack, Linux, BSD, and Windows platforms.
John has been instrumental in the creation of documentation, training and Change Management procedures for his clients. Materials and documentation which John has created are currently being utilized by, literally, hundreds of clients all over the world! John believes strongly in hands-on participation and currently travels between 20 and 30 weeks per year on projects.
In his free time, John enjoys photography, cooking, professional pyrotechnics and travel to exotic locations.
John Presently holds the following VMware Certifications:
VCP3, VCP4, VCP5, VCP5.5, VCP6, VCP 6.5 #45078
VSP
VTSP