Unlike in previous releases, VMware took a good long time getting vSphere 6 ready. For the first time ever, VMware made the Beta version of vSphere 6 publicly available (all you had to do was sign-up) and was actively soliciting input on the Beta forums.
The initial public release of vSphere 6 (3/12/2015) was, nonetheless, plagued with at least one critical issue and several annoyances. The most critical issue affecting vSphere 6 was that Changed Block Tracking (CBT) appeared to be essentially broken, rendering most forms of backup using the vSphere API for Data Protection useless[1]. This and other less significant issues rendered the initial release of vSphere 6 unsuitable for use in production environments, and I recommended that all users hold off on upgrading until these issues had been resolved.
VMware released the second major update to vSphere 6 on 7/7/2015 and I immediately began testing the release for use in production environments. After more than a month of testing, I am very pleased to report that vSphere 6.0.0b, in my opinion, is ready for use in production. While I discovered no major failures, there remain a number of minor exceptions to the functionality of the product. Nevertheless, I am recommending clients roadmap upgrading to vSphere 6.0.0b at this point.
Please note that the most recent release, vSphere 6.0 U1, is known to have wide-ranging compatibility considerations[2] and I do not recommended upgrading to this version as of this writing!
Noted Exceptions to functionality in VMware vSphere 6.0.0b
The most significant issues noted for vSphere 6 have been corrected, leaving just a few annoyances for administrators to accommodate in vSphere 6.0.0b:
UPN formatted names
One of the changes administrators will have to accommodate is using the UPN format of your username ( user@domain.tld ) in place of the traditional DOMAIN\user. That means that the accustomed convenience of using the checkbox "Use Windows session credentials" will most likely not work[3] for either the Windows-client or the dreaded[4] Web-client.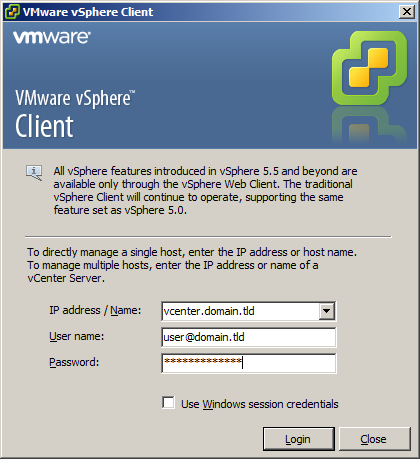 Missing Health Status tab in the Windows Client
Another aspect where vSphere 6.0.0b is notably remiss is in omitting the Hardware Status tab for the ESXi host[5]. VMware describes the missing Hardware Status as "expected behavior" in vSphere 6.X, however I have noted this as an exception due to the fact that this feature functioned in vSphere 5.5 and prior versions.
Fortunately, it is not that the health status information has simply disappeared, one simply has to connect directly to the host or use the Web-client to view Hardware Status.
Deprecated VMFS Volume(s) found on the host
A false warning is created when re-scanning datastores indicating that "Deprecated VMFS Volume(s)" have been found on the host. This is a known issue (VMware KB: 2109735) and can be safely ignored. The main impact to users is that the warning icon may cause other warnings to go unnoticed!
The vSphere Clients
The VMware vSphere Windows-client (C# Client) to which you have become accustomed will continue to be supported in vSphere 6 for connecting to the environment and managing Virtual Machines at Hardware Version 8 or below.
I continue to recommend building new and holding existing Virtual Machines at Hardware Version 8 to facilitate maximum compatibility with both the vSphere Windows-client and vSphere Web-client. Furthermore, I strongly recommend clients use ONLY the vSphere Windows-client wherever possible, due to security and stability issues associated with Adobe Flash.
It should be noted that most of the available browsers have, or are in the process of discontinuing support for Flash entirely. This leaves us with the very real possibility that during the lifespan of vSphere 6, the Web-client could end up as a web-based application without a platform on which to run!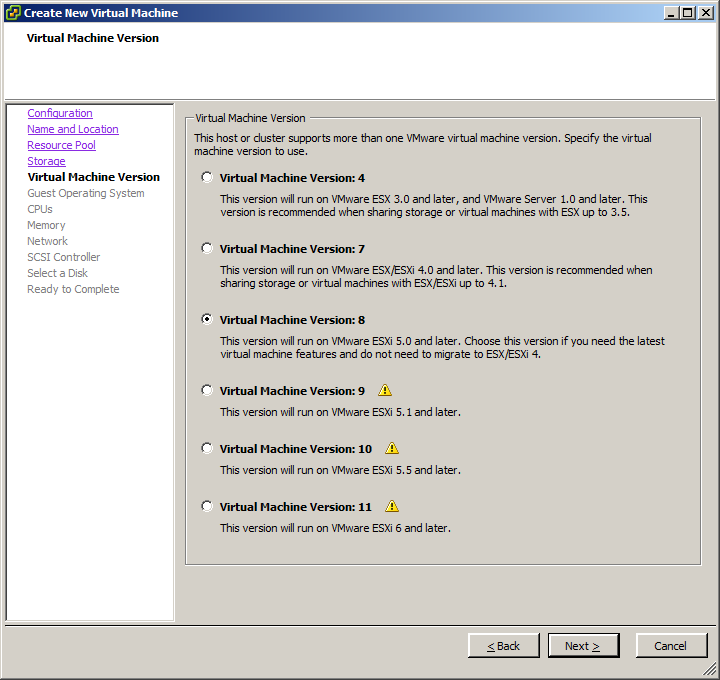 The Virtual Machine Hardware Version is merely a definition of maximums supported. Unless you need one of the features enabled by versions 10, 11, or 12, (Example: 2TB RAM and/or 64 vCPU) neither the VM nor the environment will benefit by upgrading.
The vCenter Server Appliance
I have tested the VMware vCenter Server Appliance (VCSA) 6.0.0b. and definitely recommend its use in production vSphere deployments. The big improvement to the VCSA 6.X is that it is 100% compatible with the vSphere API and it is natively scalable up to the maximums supported by any vCenter server: 1,000 ESXi Hosts and 10,000 Virtual Machines!
I intend to recommend and use the VCSA as a primary implementation of the vCenter Server Service on all installations moving forward, both for my own and client-site installations. I will gradually phase-out Windows-server based deployments of vCenter as they are:
Replaced by a VCSA
No longer required
Reach end-of-life
The advantages of the VCSA are:
More secure Linux platform
Faster API
Fully-scalable
Smaller footprint overall
Fewer potential failure points
Reduced costs (most critical to non-volume license customers)

Requires no Microsoft Windows Server license
Requires no Database license
Windows VMware vCenter Server
The Windows-installable version of vCenter server 6.x has had several major architectural changes and improvements as compared to previous versions:
Most importantly, vCenter 6 no longer requires users to install 4 major components separately. Instead, it offers users the same choice that the VCSA does: Embedded or External Platform Services Controller (PSC).
The embedded database for the Windows vCenter Server is now PostgreSQL (an improvement over Microsoft SQL Express), while external database support continues to include Microsoft SQL Server and Oracle.
Use Case
There is no solid upgrade path between Windows vCenter and VCSA at this time. I continue to recommend that users who are currently running on a Windows-based version of vCenter and must upgrade (as opposed to build new) continue to run vCenter on Windows.